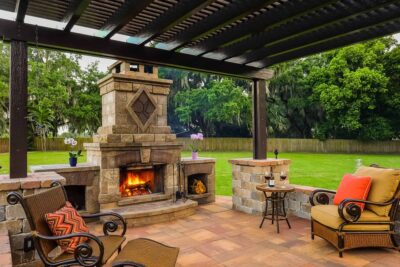 In our last article, we covered the benefits of adding a pergola to your home. Today, we're going to discuss the different types of pergola materials to help you determine which is best for you.
We'll be talking about four different types of pergola materials, including a quick rundown of pros and cons:
Pressure-treated wood

Cedar wood

Vinyl (also known as PVC)

And aluminum pergola
PRESSURE-TREATED WOOD
A pressure-treated wood pergola can be painted (unlike cedar) OR stained, which means you can go with any color you like. It also comes in at a lower price point than a cedar pergola, so if cost is a concern this option may be the best choice.

"Pressure-treated" means the wood is conditioned to resist mold, rot and bugs. That said, this pergola material is still more susceptible to these types of issues than the other materials we'll be talking about.
Pros:
Cost-effective solution

Can be stained or painted
Cons:
Needs to be repainted and restrained

Shortest lifespan of all pergola materials
CEDAR WOOD
Next up is cedar wood. As far as color options, you're limited to staining, as cedar can not be painted. Re-staining as a form of maintenance is required.
That said, cedar has a beautiful distinct reddish color — and it smells fantastic! Unlike pressure-treated wood, cedar is more resistant to rot and bugs, which adds to the longevity of the pergola.
Many homeowners love cedar because it's of higher quality than pressure-treated wood, and its price point is still better than aluminum.
Pros:
Beautiful red color

Bug- and rot-resistant

Smells amazing
Cons:
Requires maintenance/re-staining

Higher price than pressure-treated wood
VINYL (PVC)
Part of the appeal of wood pergolas is that they're actually made of wood. And yet, vinyl pergolas are well liked because they last a lifetime, and require very little maintenance.
That said, living in Wisconsin, it's important to note that this material may not be quite as sturdy as wood or aluminum if weighed-down by snow or ice. Something to keep in mind as you compare materials.
Color choices include bright white and beige, which offer a more formal look than stained or painted wood. That said, vinyl pergola CAN be painted with acrylic paint. Painting may increase maintenance needs for cleaning and touch up.
Pros:
Lowest cost of the four pergola materials 

Low maintenance 

Lightweight
Cons:
Can soften or sag under heavy snow or from temperature variance

More formal appearance may not complement rustic landscape design

Can not be connected to a home
ALUMINUM
Attractive and very low maintenance, an extruded heavy aluminum pergola can last a lifetime with no cracking or warping. Extruded heavy aluminum is extremely strong, dependable and low-maintenance — so you don't have to worry about material decay even in our Wisconsin winters! 
Color options are more varied than vinyl pergolas, and textured coating options are available if you're looking for something particular to compliment your home. This material also offers a more modern look. Powder coated, the paint on an aluminum pergola is very durable.
Pros:
Super durable, even in Wisconsin weather

Can be freestanding or attached to your home

Coated with a tough, fluoropolymer finish
Cons:
Want to learn more?
You can check out our pergolas page. You can also contact us anytime with questions or to set up an appointment to discuss pergolas with you.