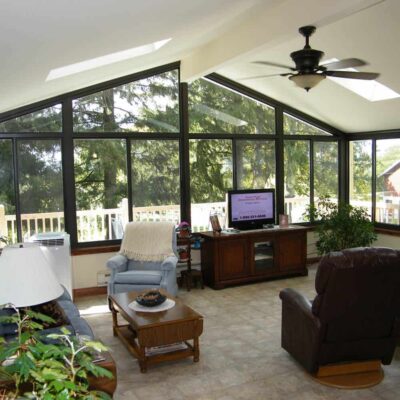 Whether you currently have a deck, 3-season room, screen room — or are planning your first outdoor living space, an all-season room may be an excellent choice for your home and family.
To help you discern if an all-season room is right for you, we've pulled together the top eight reasons most people choose to have one added onto their home. If these resonate with you, then an all-season room — or an all-season sunroom — may be the right solution for you.
Before we get into the top benefits, it's important to note that usage needs and aesthetic preferences can be wildly different from person to person, so there's no right (or wrong) answer regarding what outdoor living space is best for you. The one thing you'll want to make sure of is that you choose a contractor with a proven track record of creating well-made, beauriful outdoor living spaces.
Now, onto the list of benefits …
The Top Eight Benefits of an All-season Room
You control the temperature — year round!


No matter what the temperature is outside, you will be able to easily control the temperature inside your all-season room, regardless of whether it's a blistering summer day, or a blustering Wisconsin winter storm.

Bugs won't bug you


Enjoy the feeling of being outdoors without the bother of bugs. Enjoy meals, music, reading — or simply put your feet up, in the bug-free comfort of an all-season room.

Stay dry, even when it's raining


Stay protected from the rain (and the snow!), and plan an event or gathering without having to worry about the forecast. No matter what, you'll stay dry and comfortable. Plus, an all-season room protects your outdoor furniture, too!

More Functional Space


During our initial conversations with homeowners we'll often hear them say they want

more space

— no matter what the size of their home! An all-season room gives you year-round access to more living space for leisure time, entertaining, or a wonderful work environment.

Entertainment


Speaking of entertaining, an all-season room can be a spectacular solution to entertain guests, celebrate a holiday or host a party. And just like you, your guests can enjoy every single benefit listed in this article making the gathering that much more memorable.

It can increase the value of your home


In addition to the enjoyment and comfort you experience from an all-season room, it can also increase the value of your home if you decide to sell. 

The view is spectacular


When it comes to an all-season room, seeing is believing — and that's exactly what you get to do from the comfort of the room. You can stay connected to nature year round with a spectacular view. And if you choose an all-season sunroom, you can also enjoy the sky and the stars.

More light!
The amount of additional natural light that an all-season room welcomes into your home can really brighten up the house. Once again, if you choose an all-season sunroom, there's even more light to be enjoyed. Either choice has been known to lower energy bills because you don't need to turn on artificial lights as often.
The Difference Between an All-season Room & an All-season Sunroom …
Throughout this article we've made reference to both types of year-round rooms.
But what's the difference?
Essentially, the major difference between an all-season room and an all-season sunroom is the roof. Specifically, all-season rooms have a more traditional roof, while all-season sunrooms have a glass roof.
Want to learn more?
Check out our all-season rooms and all-season sunrooms pages for more details. You can also contact us anytime with questions or to set up an appointment to discuss things further!