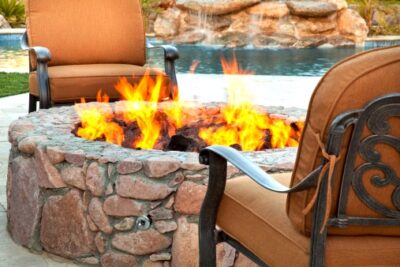 Enjoying your outdoor living space doesn't need to be interrupted by the Wisconsin cold. So whether you would like to add a heating element to an existing outdoor living space, or are considering having a new one built for you, the following tips can help you stay cozy outside as the temperature drops.
An important note: if you're looking to add one of these heating elements to an existing outdoor living space, it's important to speak with your contractor to ensure that what you're planning is a safe solution for your deck, patio, screen porch or other exterior space — and is installed according to all current building codes.
That being said, let's take a look at how to effectively heat your outdoor living space …
1. Natural Wood-Burning Fireplace
The warmth and wonderful smell of a natural wood-burning fireplace just can't be beat — especially if you like the traditional aesthetic of this heating option. Installation and operation of a natural wood-burning fireplace is one of the more expensive outdoor heating options, so if cost is a consideration you may want to choose a more economical (yet still effective) solution.
2. Custom Outdoor Fireplace
This type of fireplace provides more design flexibility, making it possible to better suit the aesthetic of your outdoor living space, and your home. And you can choose from many materials including brick, stone, concrete — or even metal — and a custom outdoor fireplace can be fueled with gas or wood.
3. Biofuel Fireplaces
An alternative to wood-burning and gas fireplaces, a biofuel fireplace is an eco-friendly option that offers an extremely modern look. Fueled by bioethanol, a biofuel fireplace does not require a flue or chimney, so installation is easy and more flexible compared to traditional heating options. And as you might imagine, biofuel is clean burning.
4. Fire Pits
A flexible option, fire pits can be built right into the ground, or integrated into your outdoor living space. It's also highly customizable. Perfect for cozy backyard campfires, and conversations with family and friends — and of course roasting marshmallows.
5. Gas or Propane Fire Pits & Fireplaces
Offering a more contemporary design, these outdoor heating options provide the same type of setup as their wood-burning counterparts, without the expense of using natural wood. In addition, while for some wood burning is an integral part of the experience, for others it's just a hassle. If this is the case for you, a gas or propane solution may be just what you're looking for.
6. Gas Lamps
Offering an industrial aesthetic, gas lamps are typically used in more commercial settings. That being said, as long as a gas or propane line is present, they can also be used in residential settings. Gas lamps need to have proper ventilation in place to operate.
7. Radiant Heating System
This heating system is built to keep snow and ice from accumulating on the flooring of your outdoor living space. It can also be incorporated into walkways — or even your driveway! Say goodbye to snow and ice accumulation (which means no shoveling), and say hello to clear, safe access to outdoor spaces.
Want to learn more?
Whether you're interested in a new outdoor living space, or just have questions about the best way to heat it during the colder months, feel free to contact us anytime to discuss things further!