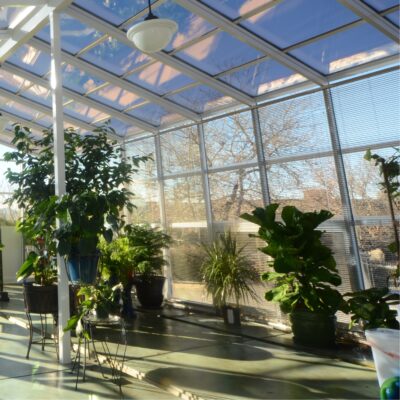 Yes, you read that right — it really is possible to turn your sunroom into a greenhouse this winter. In this article we show you how.
In addition to being able to care for and enjoy what you grow in your greenhouse, there's also the benefit of how uplifting it is to see life growing right in your home — even on the coldest, dreariest of days.
Before we get into the details regarding all the essentials needed for a successful sunroom greenhouse, you'll need to answer the following question …
Does My Sunroom Provide Enough Sunlight?
Keeping in mind that the sun shines far less during our Wisconsin winters, it's important to discern a few things before choosing the type of plant life you want to cultivate in your greenhouse.
South-facing greenhouses typically get more sunlight, which means the sun's heat will warm up the room more and you won't need to use an additional heating source as often — although you will likely still need one in place to ensure healthy growth of the plant life.
If your sunroom is not south facing, or you simply want to plant greenery that doesn't need as much sun, we recommend talking with your local plantsperson to discuss options.
In general, sunroom greenhouses that face east are good for growing low-light crops, while sunroom greenhouses that face west are typically better suited for "heat-loving" crops.
Once you have some basic information, including which direction your sunroom faces and what types of greenery or crops you'd like to grow, your local plantsperson should be able to give you some good recommendations as to how to proceed.
Some Technical Considerations …
Full access to light, and limited shade is ideal for plant growth.
A minimum of 6 hours or light, each day, is advisable for proper growth and health of plants during winter months.
You'll need a heating source to ensure the greenhouse remains above a certain temperature, especially during the night. We advise talking about heating sources with the company that installed your sunroom, as they can recommend options that are effective, and also adhere to building codes.
Essentials for your Sunroom Greenhouse
There are some things a greenhouse just can't do without (beyond the sun).
The following is a list of some essentials you need …
A water supply: this can be as simple as a nearby sink to fill your watering can, or access to a hose.
Insect repellent is something we've seen recommended for greenhouse sunrooms, although we suggest discussing options with your palntsperson. The last thing you want is anything toxic in your home.
Benches & Seating: here's a chance to get creative and add design elements to the greenhouse that match the style of your sunroom. The type of benches (for your plants), and seating (for you and your family) you choose, and how you arrange them, can go a long way in creating a greenhouse that's pleasant to the eye.
UV lights: perfect for when the days are cold and cloudy, UV lights can help promote plant health.
Heating source: as mentioned earlier, keeping your greenhouse at a certain temperature is super important!
Something else fun is adding brick plant stands and tables to the greenhouse environment, as they can absorb heat energy.
We hope these tips are helpful. If you need assistance transforming your sunroom into a greenhouse, or would like to discuss having a sunroom built for your home, feel free to contact us anytime to discuss things further!