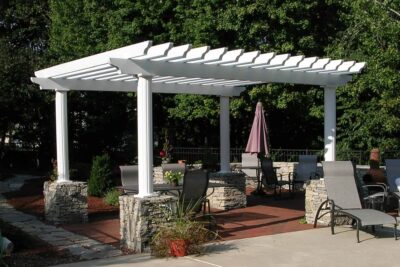 If you've been thinking about getting a pergola for your home and are looking to learn more about them — including some of the top benefits you can expect — you've come to the right place.
Since we're pergola geeks over here at Kool View, let's start off with a quick definition …
The origin of the word pergola stems from the Latin word pergula, which means "projecting roof." Essentially, a pergola is, "a structure usually consisting of parallel colonnades supporting an open roof of girders and cross rafters."
— Merriam Webster
The versatility of a pergola is a great benefit, as the roof grid can remain open or it can be covered for shelter against the elements. It's also important to note that pergolas can be freestanding structures or attached to your home.
Speaking of benefits, let's dive into what you can expect from a pergola …
Green Up Your Garden


Pergolas can lend support to landscaping features like climbing flowers, vines and ivy. Simply plant these flowers and vines in the right place and they'll majestically intertwine with the pergola's supports and roof-like beams. Plants that pair well with pergolas include wisteria, clematis and grape vines. You can also hang planters from the beams!

 

Add Value to Your Home


Like any good home improvement, a pergola will increase your home's worth, as well as its curb appeal. There's also the value of ENJOYING your backyard more with the addition of a visually stunning pergola.

It's Comfortable


Being able to sit outside without the sun beating down on you is one of the most valued benefits of a pergola. The amount of shade a pergola provides is directly dependent on

the size of the overhead beams, as well as their spacing. That said, even if you choose wider-spaced beams, a covering can be added to your pergola on those hot days where full shade is desired.

It's Beautiful


In addition to the physical comforts provided, a p

ergola also has aesthetic appeal. It creates visual interest, and it can also feel very grounding to be nestled inside its architectural beauty. Plus, there are many styles of pergolas, ensuring the one you choose has visual appeal to YOU.

It's Affordable


Depending on the materials you choose, and the size of your pergola, cost will of course vary. That said, there are many economical options that still provide all of the benefits mentioned in this article. When we work with clients, two of our top priorities are helping them find something they love that also fits within their budget.
We hope this article helped you learn more about pergolas. If you're interested in learning even more, you can check out our pergolas page. You can also contact us anytime with questions or to set up an appointment to discuss pergolas with you.
Thanks for visiting, and stay well!