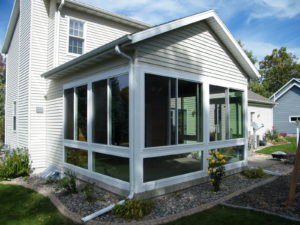 As we begin the spring season, many homeowners are excited to enjoy their porches again.
One of the things we love about what we do here at Kool View is make it so homeowners can extend that enjoyment for three — or even all four seasons of the year with a porch enclosure.
If the thought of comfortably using your porch during the fall — or even the bitter-cold Wisconsin winter — sounds exciting, we'd like to answer some common questions to get you started understanding what goes into creating a beautiful, well-constructed porch conversion.
Can I use my new space year-round?
An all-year-round, or 4-season porch requires insulated glass (double-glazed), floors and ceiling — which we can absolutely build for you. That said, a single-glazed window system and uninsulated porch can be easily heated with an electric heater for special occasions.
This is one of the criteria we discuss with clients early on, as we get to know their desired usage needs.
What is "glazing?"
There are two types of glazing you will see referenced when it comes to porch enclosures and porch conversions.
Glazing is the glass on a window or door. Single glazing is ONE sheet of glass. It keeps the elements out, but is not efficient in regulating temperature or noise. This type of solution is typically used for the creation of a three-season sunroom or porch enclosure.
On the other hand, double glazing is TWO separates sheets of glass on a window or door, which keeps the noise out much more effectively — and regulates the temperature of the porch enclosure. In other words they are insulated windows, which are one of the key factors in creating a 4-season sunroom or porch enclosure.
Either option, when integrated into one of the many porch enclosure systems we offer, will extend the use of your porch so you can be closer to nature beyond the spring and summer months.
Cleaning Glazing
Regardless of which type of glazing you choose, you may be wondering how to clean your windows. All of our wall systems have removable sashes for cleaning from the inside, which makes the process quite easy.
Will it still feel like a porch?
Absolutely! Our clients LOVE their new enclosed porch. Just open a few windows and hear nature, enjoy a cool breeze and the smell of a freshly cut lawn. The great thing is, if the wind starts to gust up, or it gets a little chilly at night — just close a window or two and the room is still comfortable. Plus you don't have to worry about your napkin blowing off the table, or rain on the furniture.
I currently have a screened-off porch. Why can't you just install windows where the screens are now?
Any porch over 12' 6" in either direction needs to have an engineered wall system to meet current building codes for "lateral wind loads." We CAN install windows in the existing openings for smaller-sized rooms.
Can I remove the screens from the porch enclosures you install?
Some of our wall systems have removable screens, some have fixed screens. It's really just a matter of determining what you are looking for.
That's all we have for you today!
If you have additional questions, or would like to speak with us about a porch conversion, feel free to contact us anytime. We'd be happy to talk with you!