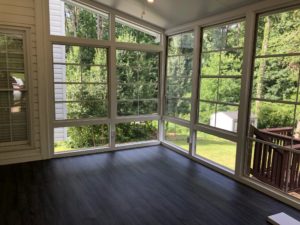 V-series windows are one of our most popular solutions for homeowners looking to turn their screen room, deck, porch or patio into a 3-season room.
In this article, we'd like to share the top five reasons why they're so popular to help you decide if this type of room is right for you. First, let's define what a 3-season room is to make sure it's what you're looking for.
A 3-season room is exactly what it sounds like. It's a room that can be enjoyed during spring, summer and fall. They're built to last and look great for years. However, they're not suitable for the Wisconsin winter months like an all-season room is. Learn more about the differences between a 3-season and all-season room.
In case you're wondering, the "V" in V-series windows stands for vinyl — specifically memory vinyl, which is a specific type of vinyl that has the ability to revert to it's original shape if stretched. Unfortunately, these windows won't help improve your memory, but this material offers a lot of benefits …
The Top 5 Benefits of Using V-series Windows for Your 3-season Room
Affordability: Memory vinyl is less expensive than glass. That being said, it still provides protection from ultraviolet rays, rain, wind and pesky bugs. We'd also like to clarify that affordable does not mean cheap. As with everything Kool View creates, we only use top-notch materials that are built to last.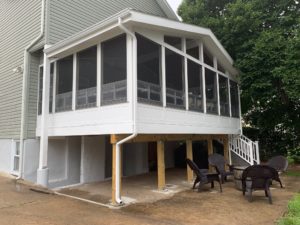 Versatility: V-series windows can be easily opened in a variety of ways to control air flow, and each window can be opened up to 75%, offering a lot of adjustability as the seasons change.
A few V-series window tips:
Opening from the bottom provides the best breeze
Opening from the top helps keep rain out, while still allowing air movement
Opening from top AND bottom allows air movement — but you won't feel a breeze!
Variety: What's great about V-series windows is that there are some nice choices for frame and glaze colors, which gives you the ability to customize the look of your 3-season room — and also complement the rest of your home's aesthetic. You can choose from five frame colors, and four glaze colors. An added benefit is that the frame and glaze colors you choose can also help set a mood, helping create a space that feels peaceful and calming. Plus glaze colors help control the amount of light that enters the room.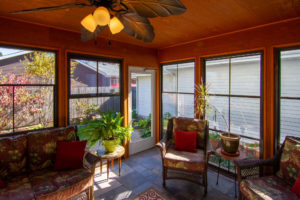 Two Screen Types: The standard screen type is ideal for letting in a cool, refreshing breeze. Our premium screen type is just as breezy, and offers pet paw resistance with "no-see-um" protection from mosquitoes, flies, gnats, etc.
Durability: Tough memory vinyl and minimal moving parts are a recipe for durability, and ease of use, in your 3-season room.
We hope this overview of 3-season rooms made with V-series windows has been helpful!
Want to learn more?
Feel free to check out our V-series Windows page. You can also contact us anytime with questions or to set up an appointment to discuss things further!