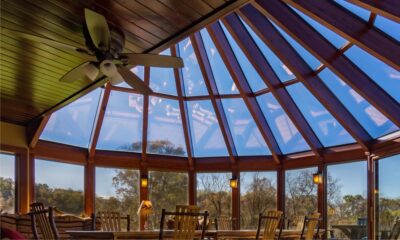 There's something special about the look and energy of an all-season glass roof sunroom — not to mention the enjoyment of being able to look up at the sky, any time of year no matter what the temperature, from the comfort of the inside of your home.
Since you're here, you're probably already considering an all-season glass roof sunroom, so let's take a look at four different types to help you decide which one you like best.
No matter which all-season sunroom style you choose, just know they all provide year-round enjoyment!
All-Season Curved Sunrooms
Offering a refined, classic look, these curved sunrooms have a seamless, graceful eave where the roof meets the wall. In addition to tons of natural light, this type of sunroom also creates elegant symmetry that can complement your home's existing roofline.
Regarding materials, you can choose from a slim, contemporary aluminum profile, or warm, natural Northern White Pine beams. Another consideration is the type of windows that will be installed. At Kool View, we use our exclusive, patented, multi-coated CONSERVAGLASS SELECT™ windows by Four Seasons™, for year-round enjoyment you won't find anywhere else.
All-Season Studio Sunrooms
This type of sunroom is known for its affordable, single-sloped roof style — which adapts to nearly any existing roof design. In fact, all-season studio sunrooms are typically the most economical style of sunroom — and the most versatile. It can be used as an additional living room, pool enclosure, office or entertainment space!
Traditionally, materials used to build these sunrooms include wood and aluminum, although at Kool View we now offer a new hybrid vinyl sunroom material, as well.
All-Season Cathedral Sunrooms
Breathtaking, vaulted cathedral sunroom ceilings are truly a sight to see. And, in addition to increasing the size of your living space, another big benefit of an all-season cathedral sunroom is return on investment. Local Madison, WI, realtors say this sunroom style delivers one of the highest returns on your investment: nearly 80%!
Perfect for family time, or a large holiday gathering, this type of sunroom is available in wood and aluminum. Kool View also offers a new hybrid vinyl material as an option.
All-Season Conservancy & Gable Sunrooms
Conservatory sunrooms just might be the most well known type of sunroom.
With roots in European tradition, they offer old-world charm with the benefit of modern, energy-efficient, maintenance-free construction.
If you are looking for a beautiful sunroom that combines classic, elegant architecture with modern, durable construction, then an all-season conservatory sunroom from Kool View might be the perfect fit for you! Enjoy more light in a space that's perfect for an enclosed pool, green house — or any room you want to bring the outdoors into, without the hassles of bugs and allergies.
These types of all-season sunrooms offer three materials options: aluminum, wood and vinyl. Kool View all-season conservatory and gable sunrooms feature our Four Seasons Conserva Glass Plus™ roofs for year-round comfort and performance.
Want to learn more?
Feel free to check out our Sunrooms Overview page, or one of the specific sunrooms pages under the Products & Galleries section of our navigation. You can also contact us anytime with questions or to set up an appointment to discuss things further!